30/04/2023
Privacy
is
dead
Or is it?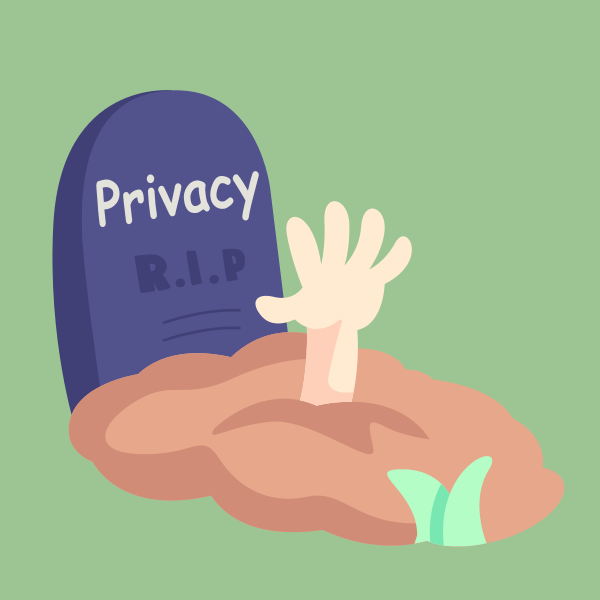 No, privacy is not dead, it has simply changed. And as a result, our approach to its protection must also change.
At the beginning of 2021, Amazon installed AI-powered cameras in the delivery vans of one of its warehouses in Los Angeles. Derek, a delivery driver at the facility, shared that the camera in his van started incorrectly penalizing him whenever other cars cut him off, which is a daily occurrence in Los Angeles traffic. "Maintain a safe distance", said the camera installed above his seat when a car cut him off. The data was then sent to Amazon and used to evaluate his performance for that week and determine whether he would receive a bonus. The incident initially caused panic for Derek and his colleagues, and subsequently for the entire sector of employed workers who feared for their privacy.
In a world where we are constantly surveilled, everything becomes a performance
What Derek is unaware of is that he himself is also a surveillant in turn. Whether we like it or not, all of us play a role in "surveillance." Sociologist David Lyon, in his latest book "The Culture of Surveillance," no longer approaches the subject with the notions of "state" or "society," but rather speaks of culture. These outdated notions described a type of top-to-bottom surveillance, the same one depicted by George Orwell in his 1984.
The culture of surveillance in which our society finds itself goes beyond that. While acknowledging what happens in the surveillance carried out by organizations, it highlights the different roles that each of us plays in relation to it. For example, the data we create using Facebook (or any other social media) is not only exploited by organizations to sell us to the highest bidder but is also the tool we ourselves use to surveil, de facto, what our friends say and do. We self-surveil.
And it is in this last analysis that Lyon finds one of the core issues: performance. In a world where we are constantly surveilled, everything becomes a performance. And this inevitably has side effects. The awareness of potentially being observed alters our behavior: it makes us harmless, conforming to the behavior we know to be the most reassuring, it denaturalizes us, leading to what he defines as the "collapse of contexts," where, returning to the example of social media, too many different contexts of our lives merge and collapse into a single amalgamation.
Privacy has shifted from an individual right to a collective negotiation
Professor Antonio Casilli explains that what privacy has undergone is not an end but a transformation. It has shifted from an individual right to a collective negotiation. In his book, this is presented as a transition from "privacy as penetration" to "privacy as negotiation," which is a notion inherited from Anglo-Saxon jurisprudence of the 19th century that portrays each individual as an isolated entity at the center of a private sphere. American jurist Louis Brandeis stated in 1890 that "privacy is the right to be left alone," but online, no one wants to be left alone. Moreover, what we face today is a system where we consciously sell "ourselves," as seen in the startup Weople: an app founded by the company Hoda that promises its subscribers compensation in exchange for the surrender of their personal data.
With this premise, Italian writer Giovanni Cattabriga, better known by the pseudonym Wu Ming 2, reminded us back in 2008 of the essential formula to use in this fight against the culprit: "the usual old speech. Since the enemy uses a tool, the tool becomes the enemy." Hence, the exhausting realization that regardless of the means, the owner of a company will always have an advantage in the Hegelian master-slave relationship. But should this be enough to limit technological development?
In industrial workplaces, a thorough risk assessment is the first step towards increased safety, using tools that allow the identification of risks before they can lead to potentially dangerous situations. When incidents occur, they should be analyzed and used together with all other appropriate preventive measures to avoid future occurrences.
Collecting real-time data, in fact, enables us to broaden our understanding of the daily issues that workers have to deal with and, consequently, make changes to support the creation of a safer work environment.
Furthermore, "the surveillance culture," like any other culture, develops in different ways and often transforms unpredictably, especially in contexts of increasing social fluidity. It sprouts and blossoms differently depending on historical and political circumstances.
Therefore, before succumbing to psychological terrorism dictated by the fear of being devoid of protection, passive victims of a technocratic system, it is necessary to analyze the issue based on the involved countries and their contribution to citizen security.
In this regard, the European Union has always been at the forefront. Since 2016, through the General Data Protection Regulation (GDPR), it has promoted the protection of personal data and sought to restore control to citizens over their own privacy.
In conclusion, although privacy has undergone a transformation, and the way we conceive it has changed, we cannot claim that it has died completely. It is true that we live in an era where surveillance is widespread, and our digital and physical lives are constantly monitored. However, we must not succumb to fatalism. Technology offers new scenarios that can support and improve our lives. It depends on how we use it. The responsibility to use technology for the benefit of others and not to their detriment remains in our hands.